Slow Down - How I am avoiding Bitcoin Mania
By Will Laurance on 12/28/2017
1806 views
Today I dropped my girlfriend off for her flight back to San Francisco. I'm here in Virginia two more days with my Parents. It was a blistering cold 20 degrees and a strong chilling breeze at the airport. I kissed my girlfriend goodbye and wished her a safe flight.
I got back in my parent's Camry and connected my iPhone to the Bluetooth speakers so I could speed back home listening to my favorite music. I've been meaning to get some time alone to wrap up the year with some reading, writing, and meditation.
My mind was racing with all sorts of different things I could work on when I got home. Anything from trying to understand what is happening with Silicon Valley, Bitcoin mania, or Space X to things like nutrition, therapy, and self care.
Right before the on I-64 East on ramp, I hit a yellow light and had to stop. I looked around the intersection and noticed Virginia state police and many trucks with 'Oversize Load' on them. I then saw a large freight truck carrying what looked like three 30 foot wide concrete walls stacked on one another. The payload was taking up at least two lanes.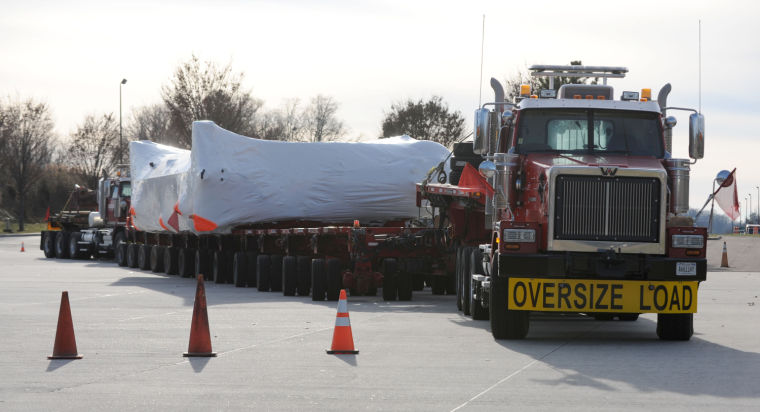 As I feared the 'Oversize Load' convoy got their turn light before I did. My gut reaction was, "Please don't get on the interstate, I'm in such a hurry!". But there was no hurray at all. I was moving faster than I needed to be.
My light turned green before the truck and its payload were half way through the left turn towards the interstate. The convoy proceeded to get on the on ramp. I trailed behind.
In the last half of 2017 self-care has been a very important theme in my life. I've been going to therapy once a week to talk about all sorts of issues. The biggest issue for is getting my anger and frustration under control because it was my default reaction to almost everything. A technique that works for me is recognizing the anger/frustration as soon as possible. Then I can let myself feel the feeling. Once I have the feeling, I can find the need. Once I have the need it's a lot easier to come up with a solution for my problem.
Here's how I felt when I merged onto the interstate. I felt held back. I felt nervous. I felt angry that I was the first car held back by this slow moving convoy of cargo. The interstate is two lanes and the cargo took up the entire two lanes. There was no passing this.
I knew the only way I'd manage was to draw from my Stoic teachings and not let the situation affect my emotions anymore. It was a freight convoy. It was not worth getting worked up about.
It worked, I settled in. I took a sip of coffee that I brought with me. It's amazing how much can happen in 30 seconds.
My racing unorganized thoughts turned clear. Driving slower forced my mind to move slower. This led to more productive thoughts.
My mind is always looking for excuses to run wild. Sometimes it's great! I love to let my imagination run wild. Unfortunately this freedom of the brain isn't great for getting tasks done. I also find it isn't good for long term planning.
Because I drove slower my mind also acted slower. I addressed my feelings in a calmed and collected stream of consciousness.
My Twitter and Facebook feeds contained year end wrap ups, years in review posts, and things to work on in 2018. It's inspiring to see others progress and wins this year!
My feeds are also filled with Bitcoin! I am avoiding the Bitcoin mania by taking things slow. For me I wasn't early enough on bitcoin. At this point the risk isn't worth the reward. This is something I realized in my calm states of mind. My stuck behind a freight truck mindset.
This time of year I usually race through ideas and commit to them all! This time I'm taking it slow. I'm working on myself.
I wish you all the best of luck in 2018! Happy New Year!